Affiliation
Climate Futures, School of Geography, Planning, and Spatial Sciences, University of Tasmania
Research Areas

Why I do what I do

I find weather and climate incredibly interesting and I want to educate as many people as possible about climate change.
Something interesting about me

I'm obsessed with running and I've come 2nd at the Point to Pinnacle twice and want to go one better this year!
Questions answered by this expert

When & how did people realise that climate change was happening?
Who started Climate Change? When did it first happen?
Are there any places that will get colder due to climate change?
If we planted more trees how long will it take to suck up all the carbon emissions?
How do green house gases affect climate change and can we remove them?
What is the 'average' that refers to the climate: mean, median, or mode?
What role does ozone play in climate change?
How does climate change increase the amount of hurricanes?
Have chaotic weather events already become a self- perpetuating cycle, or are they still reversible – and if so, for how much longer?
What is the main cause of climate change and where does most of the pollution come from? (Which country and what is the source of pollution.)
This is a very important question, thanks for raising this at a time when urgent action is needed by all countries. Human activity is the main cause of climate change. Burning fossil fuels is the main activity that causes climate change, and changing land from forests to agriculture has also significantly increased the concentration of greenhouse gases in Earth's atmosphere, leading to climate change.
To find out which country is the biggest polluter, we will look first at where the fossil fuels that create Carbon dioxide (CO2) pollution are coming from.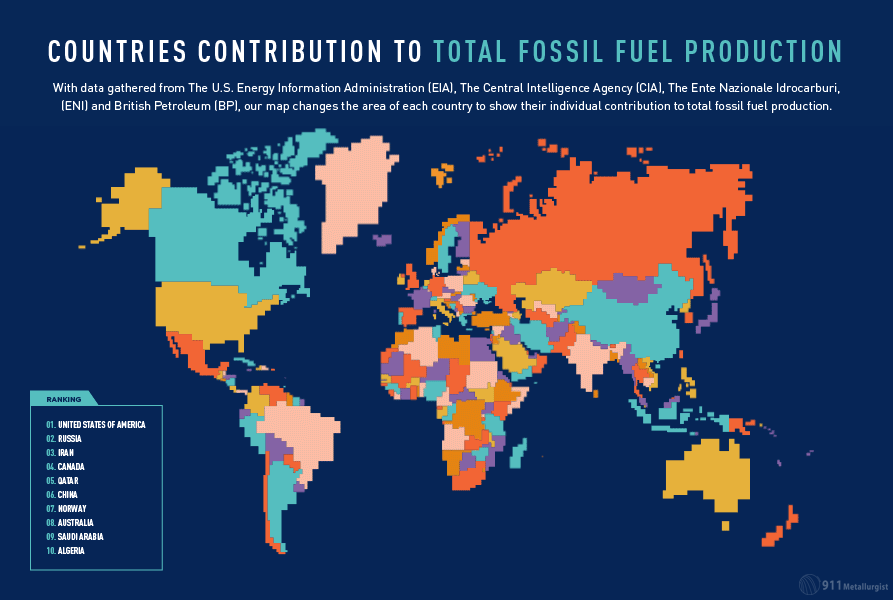 This map changes the area of each country to show how much fossil fuels it produces. The biggest producer of fossil fuels is the United States of America. Australia is also in the top 10 fossil fuel producing nations, at number 8. Many countries sell a lot of their fuel to other countries, as well as consuming it themselves. The fossil fuel industry is only made possible because people are buying and using these fuels, so we also need to ask who uses the most fossil fuels.
Climate scientists measure the level of carbon dioxide (CO2)  emitted by a country and divide it by the population of that particular country.  The result gives us carbon emission per person. This is a fair way to see which countries use most fossil fuels. Based on the recent United Nation's Intergovernmental Panel on Climate Change (IPCC) report, the most polluting country per person (per capita) is Qatar (located in the Middle East). The reason for this is that Qatar is a major producer of natural gas, oil and oil products, and sells these to countries across the world. Other neighbouring countries, Saudi Arabia and Oman are also among the biggest polluters.